プロフィール
編集

ルーミアは闇を操る程度の能力を持つ妖怪です。しかし、東方紅魔郷での彼女を判断して、そこまで闇を操る能力は高くないようです。ルーミアは単純で、個性がはっきり明らかになっていないため、二次創作系の作品では、口調がはっきり統一されておりません。
ルーミアの頭のリボンはお札で作られたお守りです。しかし、ルーミアはそれにさわることができないため、自分でリボンを取ることはできないようです。
出演作品の東方紅魔郷 〜 the Embodiment of Scarlet Devil.では、主人公の2人と戦いましたが(プレイヤーへのウォーミングアップとして)、ルーミア自身はストーリーとは無関係であるとされています。
According to comments about her in the Bunbunmaru Newspaper and in Perfect Memento it seems that she's constantly surrounded by a mass/blob of darkness at all times except during the new moon, and so is rarely actually seen in person. Despite her innocent appearance, she eats humans.
Fun Facts
編集
She is known for the memorial "First to Use the Spell Card System™" in the history of shooting games.
She is also the first official Windows boss of the Touhou series.
Her ability, "manipulation of darkness," sounds quite strong, yet she is only a poor stage 1 boss. It's kind of ZUN's joke.
It's broadly rumored among fans that the amulet-ribbon is some kind of "seal", and that taking it off will release her true power...but nobody knows the truth. In some doujinshi, when the amulet-ribbon is removed Rumia develops an EX form in which she looks more mature, has wings, and/or wields a giant dark sword.
Her catchphrase in fan works is テンプレート:Lang (So- nanoka-) which is a pretty childish way of saying "Is that so~." Rumia first says this in EoSD during Reimu's scenario.
She is usually drawn with her arms spread out, claiming the pose appears to say, "The saint was crucified." Of course, this just makes her look more childish. Like Cirno, she isn't too bright.
The phrase "テンプレート:Lang" (Mankind adopted the decimal system) appears in Marisa's scenario of EoSD. It comes from Hiroshi Mori's novel "テンプレート:LangThirty Little Indians" (Then There Were None ~ Thirty Little Indians) from "テンプレート:LangMissing under the Mistletoe" (Slumber Erasing ~ Missing under the Mistletoe).
テンプレート:Lang

Coming closer, Fukashi and Yōko waved their hands, then Moe Nishinosono
spread her hands next to her face.
This wasn't the gesture of Man adopting the decimal system.

Rumia doesn't react well at all to sunlight and dislikes the heat of summer, taking shelter from both in her own personal field of darkness. However, even she is unable to see in the dark and bumps into things on a regular basis while wandering with no goal in mind.
Rumia's non-spell card attacks and her spell card Moonlight Ray are similar to the attacks of Mystic Square's first stage boss, Sara.
Official Profiles
編集
Embodiment of Scarlet Devil - おまけ.txt
編集
 ○宵闇の妖怪 

  ルーミア


  能力:闇を操る程度の能力


  1面ボスです。妖怪です。


  ストーリー上重要な位置に居ません。何の為に生きてるのか不明です。

  実は髪の毛に巻いているリボンは御札で、リボンは取りたくてもルー

  ミア本人では触れることすら出来ないのです。


  実際、闇を操ってる場面を見れないですが、本当はルーミアの周りは

  いつも夜になっています。

Youkai of the Dusk

Rumia

Ability: Manipulation of darkness

Stage 1 boss. A youkai.

She is of no importance to the story, and isn't up to anything in particular in her life. The ribbon tied to her hair is actually a charm; she can't touch it even though there have been times when she wanted to take it off.

There is no evidence of her ability in the game, but in truth, places around her are always as dark as night.
Book Synopsis
編集
Bohemian Archive in Japanese Red
編集
A small, unusual lump of darkness has been seen lately. This is actually Rumia, who is inside the darkness. Her reason for creating darkness around her every day is to avoid the heat of summer, which she dislikes along with sunlight. There's some concern that if she stays in one place too long the darkness would hurt the summer plants around her that wouldn't get any sunlight, but otherwise the darkness has no physical effect besides blocking the sun.
When interviewed later on, Rumia complained that other youkai were coming into her darkness because the article had suggested they could also avoid the light and heat like her. She also complained when Aya requested there be enough light for her to take notes. Rumia's eyes are very sensitive to even a little bit of light because she's so used to the darkness and she considers the night to be bright. It turns out that day or night Rumia simply flies around aimlessly, with no place in mind and often bumps into trees and such because even she can't see outside her darkness. Aya was a bit disappointed that Rumia has no goals in life.
Perfect Memento in Strict Sense
編集
Rumia is among the weaker variety of youkai, but her ability makes her troublesome to fight.
She can make her surroundings so dark that even torches won't have an effect.
Even she can't see where she's going because of the darkness and bumps into things.
She's unable to do this during the night of the new moon for some reason.
Because she's normally always surrounded by darkness it's rare to see what she actually looks like.
Her true appearance of a young girl is much less frightening than people would imagine her to be.
Regardless of how she looks, she does eat humans.
The Grimoire of Marisa
編集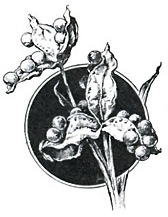 広告ブロッカーが検出されました。
広告収入で運営されている無料サイトWikiaでは、このたび広告ブロッカーをご利用の方向けの変更が加わりました。

広告ブロッカーが改変されている場合、Wikiaにアクセスしていただくことができなくなっています。カスタム広告ブロッカーを解除してご利用ください。